Tablet PC News Archive
November 2008
November 3, 2008
Educators From Around the World Come Together to Showcase Impactof Technology on Learning
7thSpace Interactive
"Because of by Microsoft's Partners in Learning program, I learned the skills I need to create projects my students can use to boost their learning, and that other teachers in the school can use to improve classroom teaching," Kathait adds. "Using audiovisual projects and digital material has really helped me connect to my students, and it has encouraged their creative thinking."

This week, more than 250 teachers, school administrators and education policymakers from 64 countries have gathered in Hong Kong for the fourth annual Worldwide Innovative Teachers Forum (ITF), a global event hosted by Microsoft. The four-day event promotes the innovative use of information and communication technology (ICT) in education. It also brings together teaching professionals such as Kathait to share ideas with their peers.

Lee is the former principal of the Crescent Girls' School in Singapore, a Microsoft Mentor School and a pilot in the FutureSchools@Singapore program, where more than 95 percent of students have their own Tablet PC with specialized applications and digitized textbooks that replace traditional hardcover books.

Similar success stories abound. Technology is increasingly being used by teachers to eliminate the boundaries of where and when learning happens, while building a safe environment where learners develop as creative and critical thinkers.

Great quotes about Tablet PCs from Tablet PC users
Whatisnew.com
In flipping through feeds today, I've run across some very nice comments about Tablet PCs. Here are three from twitter.
OpinionatedGeek: @scribbl - I'm not sure how much serious work I could get done on my iPhone, but boy is it handy! I do love the Tablet PC interface though.

songsnchaos: @rasraras I got tired of scanning. But I saved up and bought myself a tablet so I LOVE the PC now.

bmcbreen: @stephaniehayden Don't tell Uncle Steve, but I am enjoying my new tablet PC + MS OneNote combo; but if that pen works, it's got competition
What's the difference between Netbooks and notebooks?
cnet
It's quite simple: Netbooks are indeed smaller than notebooks; we usually say that a netbook can have a screen up to 10 inches from corner to corner. Netbooks are cheap and have relatively slow processors, but this is because they are designed for more basic tasks.

You'll also find that netbooks don't have optical drives. They sometimes have Solid State Drives (SSDs) instead of Hard Disk Drives, which are lower capacity but have no moving parts and should, in theory, increase battery life and speed. The last difference is that most netbooks can run either Linux or Windows XP.

Some people look at notebooks and netbooks and think "Why should I buy a device with a 9 inch screen, slow processor, no optical drive for $500, when I can buy a full-featured notebook for the same amount?". The difference is convenience and speed. A netbook is more convenient because it is generally more resistent to the elements, it's lighter, and it usually has a lighweight operating system. The processor itself isn't as powerful, but there's much less processing that needs to be done with Windows XP or Linux in order to be usable.

Netbooks these days come with one of three processors:

1. Intel Atom. Special low-power processor, which you will see in most netbooks.
2. VIA. Another low-power processor by a chip manufacturer who specializes in this stuff. VIA actually has a reference design for netbooks, and a lot of VIA-based netbooks use this exact design. (the Everex Cloudbook and the Astone UMPC are two examples).
3. Intel Celeron M. Not a good idea - it's just a standard cheap notebook processor.

If you're just looking for a portable computer to take along with you on your travels, to check your e-mail, chat on Skype, watch some Youtube videos, write letters, then a netbook is what you want. If you're going to do intensive image editing, multimedia authoring, gaming etc then a notebook is more suited to your needs. A netbook can do those sorts of tasks too, but more slowly. Heck, even a notebook isn't really appropriate for these sort of things.

November 4, 2008
Fujitsu_Introduces_LifeBook_U820 UMPC with GPS & N7010_Notebooks
Fujitsu Computer Systems Corporation today announced notebook innovations that satisfy consumer and corporate demand for greater mobility and usability. The 1.32 pound LifeBook(R) U820 convertible mini notebook, the first mini notebook combining full-featured Windows(R) PC functionality with integrated Garmin Mobile(R) PC navigation software, provides powerful computing and complete GPS navigation for about the same price as a premium GPS system. The LifeBook N7010 desktop replacement notebook is the industry's first full-size notebook to include a second Touch Zone display for keeping more information visible at all times without cluttering the main desktop.
LifeBook N7010 LifeBook U820
Powered by the Intel(R) Centrino(R) Atom(TM) Z-series processor, the LifeBook U820 mini notebook with integrated turn-by-turn, voice-prompted navigation from Garmin eliminates the need for on-the-go consumers and mobile professionals, particularly in the field force and sales force automation areas to carry separate devices for computing and navigation. The LifeBook U820 mini-notebook's 5.6-inch Crystal View wide XGA touch screen is the ideal viewing screen offering a similar viewing area to standalone GPS systems. Its improved QWERTY keyboard features an extra set of rows for more comfortable typing and a zoom utility for easier viewing.
The LifeBook N7010 has not one, but two LCD screens encased in a sleek glossy black housing. The primary screen is an impressive large, 16-inch wide-aspect Crystal View Display which delivers brighter images and richer colors, while a second 4-inch Touch Zone touch screen enhances productivity by keeping information, such as photo slide show, CD/DVD controls, or application shortcuts visible at all times for seamless multitasking.
Ray Ozzie ticks off Tablet PC fans
TechFlash
"I won't go so far as to say it's the next mouse, meaning it will be on everything and you have to use it. But it's not going to be like the Tablet PC, where it was truly niche." -- Ray Ozzie, discussing Windows 7's touch features during our interview with him last week in Los Angeles.
That might seem like an innocuous remark, but those were fightin' words to some Tablet PC enthusiasts. In a series of blog posts this week, the Tablet brigade has expressed disappointment that Microsoft's chief software architect would confine their beloved slates and convertibles to mere niche status.
Of course, Tablet PCs primarily are niche products -- having been embraced in specific industries and among a limited slice of the computing public. The idea of using a computer like a notepad, with a digitized pen, hasn't caught on among mainstream computer users. But it doesn't have to be this way, Loren Heiny writes. Tablet PCs "are not innately niche," he asserts, continuing ...
"What is the case, is that Tablet PCs have been sold like they are niche. The manufacturers have kept the prices high – keeping the volume down and off of store shelves. Even Microsoft itself has relegated the Tablet features to its premium SKUs rather than making them available in low-cost educational PCs where isn't it obvious that there's great value and need for them? And feature wise, we keep coming back to Tablets and IT. Yeah, I wonder why that might be? Might it be the niche thinking of some large northwestern company? Huh? RIng a bell?"
Rob Bushway offers similar thoughts. And Warner Crocker adds:
"Forgetting the politics, the technological hurdles, and the obvious total lack of understanding when it comes to marketing Tablet PCs, it just continually strikes me as odd that so few see the simple benefit. So much time and effort is spent on mechanical solutions for inputting data, ignoring the fact that humans still reach for a pen/pencil and paper so many times to record a simple note. I'm dumbfounded by the lack of progress here as well as the seeming lack of desire to capitalize on this."
Ozzie's predecessor, Bill Gates, was a big champion of Tablet PCs, so people aren't accustomed to hearing anything but unabashed optimism on the subject from Microsoft's chief software architect. The reaction to Ozzie's comment is no doubt fueled in part by an element of surprise
Intel Atom powered Fujitsu UMPC arrives
jkOnTheRun
I was thinking we'd soon have to retire our UMPC category but Fujitsu just gave it a stay of
execution. The follow-up to the U810 UMPC is now available says jkkmobile and for $999 it can be yours. That's the starting price of a Windows Vista Home Premium handheld with a 4,200 RPM, 60GB drive. For another $300, you move up to Vista Business and a 120GB drive. From there, the differences end as both U820 models offer:
5.6-inch WXGA touchscreen display
1.6 GHz Intel Atom
1GB of RAM
Integrated webcam, fingerprint sensor, Bluetooth, WiFi (a,b,g & draft-n), and GPS radio
Full, but small, QWERTY keyboard
Each also comes with a 4-cell, 5800 mAh battery and it's worth noting that the lower priced model reflects a $50 rebate. Personally, I'd like to see these devices come with a Windows XP license as well: some folks would prefer it over Vista for a mobile device with this CPU.
November 5, 2008
Barack Obama 44th President of the United States
Show of hands: Who wants multi-touch on a PC (and why)?
ZDNet
I'm sure there are Tablet PC users out there who are gung-ho about multi-touch coming to Windows (even if they're not gung-ho about their Chief Software Architect's take on Tablets, which, I have to admit, mirrors my own). And there's no doubt that more than a few PC makers looking for ways to convince users to buy new PCs who are rubbing their hands together with glee over the possibility of multi-touch systems for back-to-school and holiday 2009.
But can anyone else out there make a case as to why I might want a multi-touch laptop? What kinds of applications — beyond specialty ones like certain medical-imaging apps and CAD/CAM ones — will make good use of multi-touch?
OtterBox announces silicone, skin-like cases known as the Impact Series™ for the BlackBerry Bold and iPhone 3G. Cases provide impact absorbing features in a slim-fit design.
Engineered with recognized OtterBox protection in a sophisticated design, the new OtterBox 1943 Impact Series™ for iPhone™ 3G is not your average skin. The Impact Series merges durability, impact absorbing features and style in a single, slim-fit silicone layer.
The OtterBox for iPhone 3G Impact Series provides complete user interaction and access to the headphone jack, silence switch, sync/charge jack, speakers, microphone, sensors and camera. Home, sleep/wake and volume buttons remain accessible through silicone pass through buttons. Inner corners of the case dissipate impact away from the iPhone to protect from bump and shock.*
Otter Products, LLC announces the new Impact Series™ case for the BlackBerry® Bold™ smartphone from Research In Motion This skin-style case combines durable silicone with impact absorbing features to dissipate impact away from your smartphone with added bump protection.

The OtterBox 1938 Impact™ Series for the BlackBerry Bold smartphone provides the ideal solution for those looking for less extreme protection. More slim-fit than the Defender Series™ case line, the new Impact Series skin offers trusted OtterBox protection in just one layer, safeguarding your delicate device from bump and shock.
Visit www.otterbox.com to explore additional OtterBox protection for your iPhone 3G and other Apple® devices.
November 6, 2008
GBM InkShow: Windows 7 Running on a LS800 Tablet PC
Gotta Be Mobile
When Microsoft announced that Windows 7 would be able to run on cpu, memory, and resolution challenged devices like Netbooks, I couldn't wait to give Windows 7 Ultimate a try on a old, and cpu challenged, Tablet PC: Motion Computing's three year-old LS800 Tablet PC running a 1.2 ghz Intel Pentium M processor, Intel 915GMS chipset, 1 gb of RAM, and a 1.8" 30 gb 4800 RPM hard drive.
The install went without a hitch – automatically downloading needed driver updates, except for button drivers that I got Motion's support site. This was a clean Windows 7 install (no upgrade) and the harddrive was freshly formatted. The result: a decently performing 8.4" slate tablet pc with only 380 mb of consumed memory and about 50 running processes! Heat output is on a par with an XP install and I never hear the fan running. Wonderful work, Microsoft!
In this video InkShow, I demo inking, launching a game, Journal, Sticky Notes, browse the web, go in to stand-by, and more. I did launch up Media Center off camera, and no surprise – it wouldn't run. I had to force a shut down in order to recover. Besides a few minor video overlay issues and the Media Center problem, I am pretty impressed. Needless to say, I'm one very happy Windows 7 slate Tablet PC user!
Laptopmag shows off the first netbook tablet PC, aka the Intel Classmate 2
guardian.co.uk
Laptop magazine has looked at a CTL prototype of Intel's second generation Classmate, which has a touch screen but lacks the Tablet PC version of Microsoft Windows
Intel's Classmate PC reference design helped get the netbook market going, and Classmate 2 introduces a touch screen and convertible Tablet PC-style design. The bad news is that people are apparently calling it a "netvertible". The worse news is that it runs Windows XP Home, which doesn't have Microsoft's Tablet PC support.
Laptop magazine has looked at the first implementation from CTL and says:

The 8.9-inch system packs a 1.6GHz Atom 270 processor, 1GB of RAM, 60GB HDD and 802.11b/g/n Wi-Fi. The final version will also come with a 6-cell battery (our test unit has a 4-cell). According to CTL, pricing is still being worked out. The hardware without an OS will cost $499. The Ubuntu Linux version will retail for that price, but we assume the Windows XP Home version will be about $50 more.
Intel has also provided a launcher screen to make it easier for kids to run applications using their fingers. It's shown in Laptop's video.
However, such systems would make much more sense if they had a version of XP or Vista that included the Tablet PC Edition's features, and ideally the superb OneNote software from Microsoft Office. Unfortunately, XP Home is the only OS that Microsoft offers for around $20-$25 under its ULCPC (Ultra Low Cost Personal Computer) deal. Maybe someone should phone Bill Gates, who has been the Tablet PC's biggest fan.
November 7, 2008
Medical tablet has sealed case
WindowsForDevices
Panasonic announced a Windows tablet PC targeting medical applications. The Toughbook H1 has a 10.4-inch touchscreen display, 1.86GHz Atom Z540 processor, 1GB of RAM, 80GB hard disk drive, 802.11a/b/g/n wireless networking, a two megapixel camera, and optional "Gobi" cellular connectivity, says Panasonic.

Panasonic says the Toughbook H1 can withstand three foot drops, and is IP54-rated to resist water and dust intrusion. Thanks to a sealed resin case, the device readily tolerates sanitizing washdowns with alcohol and other chemicals, the company adds.

While Motion Computing's CF/F5 use a 1.2GHz Core Solo U1400 processor, Panasonic has selected Intel's 1.86GHz Atom Z540 CPU. This processor, the fastest in the chipmaker's Z500 family, is partnered by the usual "Poulsbo" SCH companion chip.

According to Panasonic, the Toughbook H1 runs Windows Vista Business, but is also available with a Windows XP downgrade. The device will be available in January 2009, priced at approximately $3,000.

Additional information may appear on Panasonic's website, here.

November 10, 2008
Samsung Q1 UMPC runs Windows 7 on Celeron-M better than Vista ever could
SlashGear
Notch up another success for Windows 7: Ian Dixon, a Media Centre MVP in the UK, has been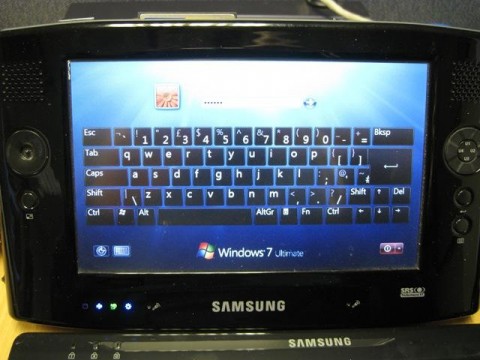 trying out the pre-beta OS on a Samsung Q1 UMPC, quite the challenge when you consider this has a mere Celeron-M processor and 1GB of RAM. As has been the experience of many others, Ian has found Windows 7 to be faster than the Vista install he had on the Q1 previously.
On first install the Q1 lacked touchscreen and video drivers, but Samsung's own download page and some HID workarounds fixed that. In fact the only issue outstanding is the sound driver, for which neither Windows 7's, nor Vista's, nor XP's will work.
Nonetheless, the aged UMPC is running faster than in its Vista incarnation, and even the media center functionality in Windows 7 Ultimate will boot (though not run in full-screen mode). The improved touchscreen features are all present and correct
Early highlights of Windows 7
Telegraph-Journal
Windows Touch - Windows 7 has built-in multi-touch technology for next-generation PCs. Currently, only Dell's Latitude XT Tablet PC and HP's TouchSmart desktop support two-finger touching on their screens. You can scroll websites with one finger or use two-finger pinching or expanding, similar to navigation on iPhones.
Tegatech brings on US UMPC vendor
PC World
US-based DT Research has become the newest vendor in niche distributor, Tegatech's portfolio.
The vendor produces a range of semi-rugged tablet UMPCs that feature hot-swappable batteries and a low weight by ruggardised standards.
Tegatech principal, Hugo Ortega, said the vendor's award as Best Choice of Computex Taipei 2008 made it an appealing addition to the portfolio.
Hot Spot: Boulevard 3
Examiner.com
Whenever I go to Boulevard 3, I feel like a psuedo-celebrity, prompting me to break out into song as referenced above. One can't help but feel privileged and famous when setting foot in this place. Boulevard 3 screams EXCESS and LUXURY. Qualities that could be a turn off to some people in light of the economy, but why not get some semblance of the good life, if only for one night.
The feeling of privilege is intensified by the staff's treatment of its guests. In a city where nightclub staff is known for snubbing clubgoers when they are supposed to be fulfilling the most basic of requests, the staff at Boulevard 3 is great. The wait in line is minimal compared to other Hollywood nightclubs, who may or may not grant entry to clubgoers depending on the mood of the person wielding the clipboard. The door people at Boulevard 3 are polite and gracious, and they are good about honoring guestlists. Very organized too; the door person in charge of guestlists held names in a PC Tablet. Impressive.
Xplore Reports Q2' 09 Revenue Growth
MarketWatch
Xplore Technologies Corp a manufacturer of award-winning rugged tablet PCs, today reported revenue of approximately $8.1 million for the three months ended September 30, 2008 as compared to approximately $5.1 million for the three months ended September 30, 2007, a 56% increase over the prior period.

Mark Holleran, President and Chief Operating Officer, stated "we believe the growth in revenue reflects a favorable market response to our new generation of the iX104 which was launched in the last month of the quarter. Also, the revenue increase reflects our ability to develop a customized solution in a short period to win and deliver our largest single order with revenue of over $2.65 million."
November 11, 2008
Veterans Day
November 11th, 2008
Fujitsu LifeBook T2020 reviewed: Display alone is worth entry-price
SlashGear
Fujitsu's LifeBook T2020 convertible Tablet PC was announced last month, complete with some of
the features the company has become known for in the touchscreen niche. The indoor/outdoor display is likely the biggest draw, being quite a hit with mobile professionals, but the new SSD options and WWAN should provide some upgrade temptation too. TabletPCReview have been giving the T2020 the once-over.
The T2020 scores highly in build quality and battery life, with the latter managing 8-9hrs from the 9-cell pack (though less than the 11hrs Fujitsu predict). Despite the capacity, it doesn't protrude obtrusively, either, with Fujitsu's designers doing a good job of integrating the oversized power-pack into the chassis. It's the screen, though, which gets the major praise: a 12.1-inch WXGA indoor/outdoor active digitizer running at 1280 x 800, which reviewer Tiffany Boggs describes as "flawless".


Mindjet Launches MindManager 8 and MindManager Web
MarketWatch
With companies and workers facing the most challenging global economy in decades, Mindjet(R) today launched MindManager(R) 8 and MindManager Web(TM), two new products that help ger 8individuals save significant amounts of time, conquer information overload, and become more effective. Additionally, Mindjet delivered powerful publishing capabilities with the release of the all-new Mindjet Player(TM). For the first time, fully interactive mind maps can be freely shared so anyone can discover the power of mind mapping, and unlock its potential to create breakthroughs in productivity and innovation.
MindManager 8 is an application that allows you to map your ideas and information visually, starting with a central topic surrounded by subtopics arranged on lines, or "branches." The map is a visual diagram that imitates the creator's thoughts, with the interactive benefits of embedded data, live hyperlinks, collaboration capabilities, and much more. MindManager is an indispensable fifth productivity application, along with the word processor, spreadsheet, presentation, and e-mail. While integrating with and augmenting all of these applications, MindManager 8 enables you to capture, organize, and act upon limitless ideas, data and knowledge without ever leaving your mind map. Millions of successful people use MindManager to manage projects, develop plans, create presentations, and accomplish a limitless number of other tasks.

MindManager Web is an all-new, elegant way to mind map and collaborate with others online.

N-Trig Hosting A Support Page For Digitizer Issues
GBM
N-Trig, the company behind the digitizer on the Dell Latitude XT Tablet PC, has posted a support page detailing workarounds on many of the known issues affecting their users. They offer several good tips on dealing with the hovering and "applet has stopped working" errors. In addition to offering up some tips, they also have a comment section where users can post their own questions.
Head over there if you are experiencing problems with your XT and see if their tips help.If they don't, be sure to let N-Trig know.
For what it is worth, I have yet to experience any of the normal N-Trig errors since installing Windows 7 on my Dell Latitude XT.
November 12, 2008
Active Desktop Calendar 7.65
PC Authority
Printing calendar data is easy and includes an option to choose date range for printing notes. Built-in address book allows you to maintain detailed information about all your contacts, personal and business alike. Importing contacts from Outlook, Outlook Express and Windows Address Book is possible.
Google Calendars are supported through direct connection with their iCal addresses. Special desktop pictures option will let you add some of your pictures to existing desktop background. For importing and exporting calendar data the program supports iCal and comma separated values CSV formats. Tablet PC users should not worry as the program detects desktop orientation changes automatically. Finally, Active Desktop Calendar comes with world clock screen saver that shows your computer's system time, plus five major time zones around the world.
The Wine List Goes Digital
Business Times, NY
tablet PCs, the digital revolution has hit the restaurant wine industry, as Kara Newman reports in her cover story, "The Wired Wine List," in the November 2008 issue of Sommelier Journal, the Essential Guide for Wine Professionals.
From projected wine lists to wireless handheld devices to
The Wired Wine List
, in the November 2008 issue of
Sommelier Journal
.
The most eye-catching of these wired wine lists are digitally projected onto the table or bar, using motion and light-sensor technology. New York wine bars Adour and Clo both use systems created by Potion Designs, allowing guests to move through the lists with their fingers. Each system provides information on the origin, varietal, details, producer, and tasting notes for any wine selected by the customer, though the systems have different interfaces.
None of the high-tech systems profiled in the article allows the customer to place an order. At Charlie Palmer's Aureole Las Vegas, for example, waiters bring a to each table, and customers are encouraged to use the system to read descriptions of the wines and regions. But Neil Palmer, director of information technology for the Charlie Palmer group, explains that the restaurant doesn't want customers to order wines by mistake.
PCs, the digital revolution has hit the restaurant wine industry, as Kara Newman reports in her cover story,
November 13, 2008
Samsung Electronics Receives 46 CES Innovations Awards for 2009
MarketWatch
Samsung Electronics, an established leader and innovator in consumer electronics, information technology, semiconductors and telecommunications, has won an unprecedented 46 International CES Innovations 2009 Design and Engineering Awards. Products entered in this prestigious program are judged by a preeminent panel ofindependent industrial designers, engineers and members of the trade press to honor outstanding design and engineering in cutting edge consumer electronics products.
By winning coveted CES honors across a broad range of technologies and product categories, Samsung once again displays why it is a worldwide leader in innovation. Samsung's award-winners include eight mobile phones, seven mobile phone accessories, six HDTVs, two laser printers, four digital cameras, two digital camcorders, an LCD Desktop monitor, a professional display video wall solution, an Ultra Mobile PC, a front loading washing machine, two LCD panels, a solid state drive and an application processor, in addition to other product innovations. All of Samsung's award-winning products will be on display during the 2009 International CES, January 8-11, 2009, in Samsung booth 11033 in the Central Hall of the Las Vegas Convention Center, as well as in the Innovations Pavilion.
Lenovo Introduces Mobile "Vault" with ThinkPad USB Portable Secure Hard Drive
MarketWatch
Lenovo today announced the ThinkPad USB Portable Secure Hard Drive to give customers a secure way to protect sensitive data in a lightweight and easy-to-use design. The award winning, high capacity hard drive, available in either 160 or 320 GB versions, uses a numeric keypad allowing users to type in their passcode to access their data. At less than an inch thin, and approximately the size of a 3 x 5 inch index card, it's small enough to fit in a shirt pocket.


The new secure hard drive meets the 128-bit advanced encryption security standard to help ensure information remains secure, and real-time encryption means users don't have to wait for the "lag time" that typically accompanies encrypted drives. The hard drive features full-disk encryption for up to ten unique user ID's and one administrator, making it an ideal tool for ThinkPad notebook PC users on-the-go or collaborating at work. Additionally, the self-powered hard drive eliminates the hassle of keeping up with power cords, and a convenient built-in USB cable makes transferring data simple and stores in the hard drive's housing when not in use.
Fujitsu Siemens Computers launches a robust Tablet PC for ultimate mobility
WebWire
The STYLISTIC ST6012, a handy and robust mobile PC, is ideal for users who need flexibility and the latest technology

Augsburg, VISIT, Fujitsu Siemens Computers presents its latest tablet PC at VISIT 2008 on November 12th/13th in Augsburg. The STYLISTIC ST6012 weighs only 1.6 kilograms and features state-of-the-art technology. Equipped with Intel® Centrino® 2 processor technology and integrated high-speed 3G/UMTS, it offers even better processor performance than its predecessor, as well as a long battery life of up to nine hours. Its 12.1-inch, anti-glare display and the easy-to-use pen make it a perfect companion for users who need ultra-flexibility, either indoors or outdoors, in sales, insurance, healthcare, surveying, or other on-the-go professions. The STYLISTIC ST6012 is available immediately at prices starting at €2000 plus VAT.

The new STYLISTIC ST6012 offers all the benefits and performance data of a very well equipped slate, as well as unique working mobility with a special pen and tablet that is just like working with paper and pen. The optionally integrated high-speed 3G/UMTS ensures that data is available anytime, anywhere and that the data can be updated and compared. Its robust housing and ShockSensor also ensure maximum data security on the hard disk.

The Tablet PC's easy handling and high-level flexibility has become an important tool for professionals ranging from the surveyor and supermarket manager or market researcher right through to hospital staff or independent assessors. The latter can also use the integrated ConfCamera to photograph any damage that has occurred.
November 14, 2008
MobileDemand Tablet PC increases productivity of beer wholesaler
Dale Lee Distributing Company, Inc., an Anheuser-Busch (AB) wholesaler located in Cedar Rapids,
Iowa, knows the importance of ruggedness and versatility for selling and delivering beer.
The sales force needed to run AB Mobility software, which wasn't possible on their old handhelds. They also needed something that could withstand the rough conditions inherent in the beer business. What they needed was a rugged Tablet PC that would survive the harsh environment of the beer wholesaler industry.
MobileDemand offered a solution that saved Dale Lee both time and money.
Want to see the output of the Math Input Panel in Windows 7 pre-beta?
lorenheiny.com
e of the most interesting new features of Windows 7 (M3 build) in its current pre-beta form is the Math Input Panel which is able to recognize handwritten math equations.
In this example, I've handwritten the quadratic formula. Now a special word here. Yes, this handwriting is very, very poor. The reason? I used my fingertip to write the equation with n-trig's alpha multi-touch drivers that unfortunately produce a lot of jitter when writing, so the writing is very messy. It's amazing that even with the poor penmanship (or is this fingermanship in this case??), the Math Input Panel does a perfect job of recognizing what I've written. You can see the recognized equation at the top of the window.
November 17, 2008
Mouse Gesture app launcher, free today only. Good for Tablet PCs?
jkOnTheRun
Giveaway of the Day is featuring a Windows application launcher today and normally, I'd skip this type of utility over. What caught my eye though is that the software brings up your customized application list through a mouse gesture. I presume it would work with a Tablet PC and pen and/or a quick touch gesture on a touchscreen device as well. It looks simple to use and it's free today only so if you need a diversion as we start the work-week, this could be a good one for a few minutes. You'll need a Windows XP or Vista machine for the 6.21MB download.
November 18, 2008
Panasonic ToughBook CF-U1
ZDNet.com.au
Panasonic has created a new paradigm in rugged notebooks with the CF-U1, which is a nice balance between portability and functionality. However businesses should be aware of its limited performance, and note that protection comes at a premium price.
Design
Perhaps the best way to begin examining Panasonic's CF-U1 ToughBook is with a little bit of technology taxonomy. Is it a massive phone? It is a tiny laptop? A UMPC on steriods? No, it's probably more like the kind of netbook you would give to riot police.
Externally, the CF-U1 look something like a giant UMPC. However from the internals, comparing the CF-U1 to a netbook seems more appropriate. At 1.06kg, it's around the same weight as a netbook, and runs off an Intel Atom. On the face side there is a full QWERTY keypad.
Fujitsu Siemens launches mobile clinical assistant
bjhcim.co.uk
Fujitsu Siemens Computers has announced the launch of the Esprimo MA, a tablet PC designed for mobile working in the healthcare sector. It is based on the Intel Mobile Clinical Assistant platform and features the new Intel Atom low-power processor designed to give long battery life for mobile devices. It closely follows the launch of the Panasonic MCA earlier this month, which also features the Intel Atom. It will be available in production quantities in the second quarter of 2009.
The Esprimo MA weighs only 1.3kg and is fanless, which enables it to have a fully sealed housing that can be sterilised for use in healthcare environments. It has integrated high-speed 3G/UMTS (3G is optional), WLAN and Bluetooth wireless communications.
Unlike earlier MCA designs, the Esprimo MA has a dual smartcard reader to ensure maximum security for sensitive patient data. It has a long battery life (up to four hours) and a hot-swap feature for replacing the battery, which enables it to be used for extended periods without returning it to a docking station for recharging. When in the docking station it is physically locked to the station and cannot be removed without a dedicated digital pen. The Esprimo MA also has an integrated barcode scanner, RFID reader and an auto focus camera.
The robust tablet PC can be used at patients' bedsides, in the examination room or even on the move. Instead of noting patient data on paper and later transferring that data to a PC, nursing staff can archive information digitally on-site. This saves time and gives doctors access to patient data immediately from wherever they are.
November 19, 2008
Apple watchers assumed Jobs & Co. would be the first to offer a multitouch laptop, but Hewlett-Packard has beaten them to the punch
From the first time Steve Jobs demonstrated "the pinch"—the two-finger gesture used to zoom in and out of photos and Web pages on the iPhone—some Apple observers assumed it was just a matter of time before a multitouch-enabled screen showed up on the Mac.
That hasn't happened yet. But as of Nov. 19, Hewlett-Packard has beaten Apple to the punch, announcing the first multitouch-enabled notebook PC, the tx2. I can't help but wonder whether Apple just lost an important race.
Hewlett-Packard's tx2 is a convertible notebook, meaning its screen can pivot 180 degrees to show someone else what's on it or lie flat and act like a tablet PC. It's the first convertible notebook aimed directly at consumers. The tx2 sports HP's version of multitouch technology, which lets you use two fingers at once to manipulate images on the screen or make on-screen gestures that signify specific commands. A pinch motion works just like it does on an iPhone, letting you rotate pictures or press and drag files around. And the tx2 is priced to move—starting at $1,150, only $151 more than the starter MacBook. I briefly interacted with the machine during a meeting this week with HP.
HP has been heavily promoting touch interfaces for about two years. Earlier this year the company launched its second touch-based desktop PC, the Touchsmart . The tx2 is a direct evolutionary result of that. HP is also releasing a new model with a larger screen and multitouch support on Nov. 19.
November 24, 2008
Review: HP Elitebook 2730p Tablet PC
Hardware
So HP gave us what we wanted, they put in a touch pad, gave us a scroll wheel and made it so that the stylus ejects from its holder slowly, essentially making the perfect tablet PC even more perfecter. (I know that isn't the proper way to use that word)
The Elitebook 2730p is a powerful machine, with the Intel Core2 Duo ULV processor under it's hood you are sure to get a lot of power from the 2730p. I personally tested it out on spreadsheets and word documents and every single office application loaded quickly. Window Vista seven loaded up quickly, made me jealous as my personal notebook didn't load Vista as fast as the Elitebook 2730p did. If you do not like Vista HP allows you to get XP Premium on the 2730p.
One of the coolest features on the 2730p is the built in business card reader, I personally get hundreds of business cards handed to me every month and some of those cards actually make their way into my contacts in outlook. Normally I would have to type in the information by hand but with the business card reader I simply place the business card in a slot just under the touch pad and lower the screen, the system will alert me when the built in webcam is at the perfect angle to take a snapshot of the business card. Once the snapshot is taken the information is pulled from the card and I can sync it into my outlook contacts.
Another cool feature is the built in light. I personally did not think it would do me any good, I mean after all why would I need a light on my notebook. But it comes in handy so often. For example the added brightness from the light often helps me on sunny days when I was outside or in a dark room. I actually found my self using it more than I thought I would. When HP firs showed me this feature on the 2710p, it was one of those features that made me go hmmmm. But after using it I realized how great of an idea it was to put it there.
Something I was really impressed with was how comfortable and light the system is when you are holding it in tablet mode. I also like how HP conveniently placed an esc, ctrl+alt+delte button, a finger print and the scroll wheel around the monitor. The positioning of these buttons finger print reader made the 2730p one of the easiest tablets to use, atleast for me.
November 25, 2008
Forest Ridge School Students Put Down Pencils and Boot Up Lenovo ThinkPad Tablet PCs
SYS-CON Media
Lenovo today announced that Forest Ridge School of the Sacred Heart, an all-girls' school located in Bellevue, Wash., deployed 330 Lenovo ThinkPad Tablet PCs to help give teachers and students new and dynamic ways to teach, learn and engage technology-savvy students in grades 5-12.
Forest Ridge administrators selected ThinkPad X60 Tablets and X61 Tablets because the Tablet PCs give them sturdy yet lightweight technology with easy-to-use features, along with multimedia and touchscreen capabilities that make computing simple for students.
Lenovo PC technology blankets the school. For example, Forest Ridge language teachers use the Tablet's built-in microphone to record students in class, and some teachers create audio lessons to send to students who miss school. In math classes, students use the ThinkPad Tablet's digitizer pen to solve problems in real-time, decreasing the use of paper. The powerful ThinkPad Tablets support multiple class programs simultaneously including Microsoft Office OneNote, a virtual binder for students to organize their homework, assignments and tests. Using OneNote on Lenovo Tablet PCs, teachers can also create images, audio and video within assignments for a more engaging learning experience.
"Our students are digital natives having grown up using technology, so it is critical that we deliver seamless, innovative, technology-enabled class lessons that involve their participation in the learning process," said Michael Smith, technology director, Forest Ridge School. "Lenovo ThinkPad Tablets create an environment that feels natural to our students while creating opportunities to stimulate their minds and help them develop new skills."
November 26, 2008
Coming Next Week
The 6th Annual List for Santa
2008 Tablet PC Holiday Buyer's Guide
Tablet PC Reviews
With the holiday shopping season underway, shoppers who are looking for Tablet PCs are in luck.
There are more tablets than ever before that are geared toward people with many different needs and interests. Whether you're a student who needs a tablet that is great for note-taking and fits in a small backpack for school, a standard consumer just looking to see what tablets offer that is affordable and entertaining, or a business professional needing a rugged yet portable solution, this guide will point you in the right direction.
Many new models were announced over the back-to-school season and within the last month that are just coming onto the market. In addition, there are many excellent tablets that were released earlier this year whose prices have come way down and are great bargains. You can find some of the tablets in this guide with prices ranging from less than $1,000 to many thousands of dollars. Obviously, higher priced tablets have better build quality and better performance, but low-priced computers provide an excellent value for young students and adults who don't need high performance and just want to stay connected.
Copyright © 2008 Blue Thunder
All rights reserved. No work here may be
reproduced or reprinted without the express
written permission of the author.